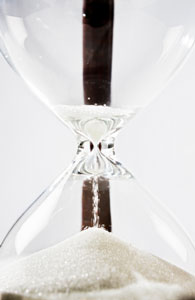 Just when you think time can't more any faster it seems to me it can.  Is the rule the older you get the shorter the minutes, days and years seem and time just flies by at a pace that's super impossible to keep up with?
I realized recently that my current thinking toward time passing me by was resulting in a feeling of being completely out of control….never a comforting feeling.  So in an effort to slow the clock down and gain some of my power back, I decided I must change my thinking and a few of my habits.
As with any problem, a good place to start is my current beliefs or perceptions of what the problem is.
Perceived Problem:  Time is passing me by (way too quickly).
Perceived Result: Feeling completely out of control (and a bit depressed / scared… you name it…I was feeling it). Read the rest of this entry →