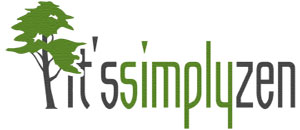 At It's Simply Zen you will discover premium yoga mats, yoga mat bags, yoga mat care, yoga towels, yoga straps, yoga blocks, yoga bolsters, yoga sandals, pilates mats, yoga mat alternatives, toe stretchers, foot care, headbands, stainless steel bottles, incense and meditation products. We carry top of the line brands like Yogitoes, Manduka, Jade, Hugger Mugger, ToeSox, Jo-Sha, and Buff. We make every effort to provide eco-friendly, natural products and to deal with eco-friendly companies.
Our goal is to provide products that will energize your life's journey!
We attempt to provide the deepest discounts and ship all order for FREE within the continental United States! Most of our products ship USPS priority or first class mail. Our yoga mats ship FedEx.
We do not ship for free to Hawaii or Alaska. Sorry for the inconvenience.
Most products are shipped the same or the next business day.
We are continually working to improve our product line and would love to hear your thoughts. Please email us at info@ItsSimplyZen.com with questions, suggestions or comments.
Namaste