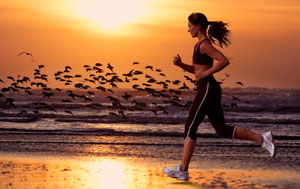 Running is one of the most inexpensive and easiest ways to stay in shape, theoretically, but it can also be one of the most destructive when it comes to the toll it can take on the muscles and joints. Many beginning runners start off with a good pair of running shoes, a training log and high hopes, but over the course of a month may find themselves with aches and pains they never thought possible. Slow and steady wins the race, but this concept can be lost on the novice runner who, like the hare in Aesop's fable, may take off fast then get sidelined by injuries, only to be beaten by the more conservative tortoise.
Yoga is one way to get the necessary stretching and muscular pliability you need in a running program, and the practice of pranayama, or regulated breathing, develops the lung capacity necessary to get oxygenated blood traveling through your cardiovascular system. Many beginning runners complain of shortness of breath, even while jogging a 10-minute mile, and even experienced runners inevitably "hit the wall," most often during a particularly hard training run or competition, which indicates that their muscles are entering the anaerobic phase and are unable to get rid of lactic acid, the byproduct of vigorous, sustained effort.
Enter the usefulness of yoga: all experienced runners know the benefits of stretching the lower back, quadriceps, calves and hamstrings, before a run, to avoid sciatica, shin splints and painful leg cramps. Through the slow, methodical and sustained stretches developed in yoga, you ensure that these areas in the body are ready for the repetitive and forceful effort required for running. Consider that your foot contacts the ground 1,000 times during a mile run and generates three to four times your body weight at each foot strike, so having your muscles and joints ready to take that load, through proper stretching, is key to avoid repetitive running injuries.
Just as important as stretching, especially for those runners who want to increase their speed through sprint work, is proper breathing, and yoga is an excellent way to develop the belly and diaphragm breathing necessary to get rid of lactic acid build-up and recover more quickly. Even distance runners go down to the track to do wind sprints and run the stairs; and when your lungs work at peak efficiency, through the on-going practice of pranayama, your speed invariably increases.