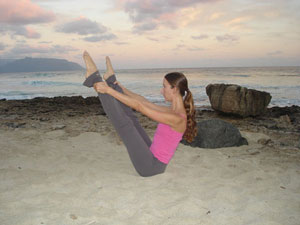 You may be asking yourself, "What is Pilates and why is everyone in the world but me doing it?" If you find yourself struggling to get yourself off a low-sitting couch or sitting up in bed in the morning is an effort, the question "What is Pilates" becomes even more important.
The Pilates Method was developed by Joseph Pilates, a German prisoner during World War I who used his training as a nurse to help bedridden English patients increase their range of movement in a confined space and ultimately get out of bed. In fact, the first reformer, a machine used in Pilates, was most likely a mechanically-cranked hospital bed. Pilates moved to the U.S. in 1926 where he established his first studio with his wife, Clara, in New York City. The couple began teaching students there how to develop their core muscles to better support the spine and improve their posture and overall health.
What is Pilates is basically a focus on the stomach, lumbar and pelvic areas of the body. By using specific and directed movements, these muscles are given a workout, and the smaller supporting muscle are also involved. What is Pilates is an understanding of how precise movements better train muscles rather than many sloppy repetitions, which can result in injury.
In a Pilates studio, you will typically see a variety of machines. These include the reformer, the Cadillac, resistance bands, the barrel and the chair, along with assorted mats for floor work. The reformer has a system of pulleys and springs that uses the individual's own body weight as resistance. The Cadillac is a padded table with a trapeze bar mounted above it with resistance bands and offers a greater range of exercise options. Resistance bands, as their name implies, offer a level of resistance to students when doing floor work during a Pilates class. The Pilates barrel is used as a flexibility and stretching aid, and the chair is actually a seat with a pedal mechanism that can be depressed to work the triceps, latissimus and other ancillary muscles to the core muscle groups.
If you still have questions about what is Pilates, your best bet is to check out a beginning Pilates class. Start out in a small class where the instructor can best monitor and give you feedback on the movements. This should give you a great introduction into a vital exercise style and routine.