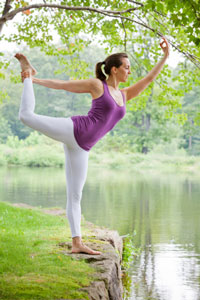 Walking into the studio with your comfy clothes on and your gym bag slung over your shoulder may be like entering an oasis, away from the day-to-day stresses of reality; but once you drive out of the parking lot afterward, your once-cleared mind fills up again with what to make for dinner, who to pick up from what after-school event and that schedule change you need to make at the office. A yoga retreat allows you to focus on your yoga practice in a nurturing, stress-free environment, generally away from those distractions that take us out of ourselves. A yoga retreat can also be a vacation getaway with a little yoga thrown in so consider what you ultimately want to take away with you, as well as your budget constraints.
Yoga Retreat Price
As mundane as it sounds, the cost of a yoga retreat is most likely your primary consideration when picking one. Is the total price all-inclusive, with all meals and classes included, along with your accommodations? Some retreats are more like spas, especially in tourist destinations where you can opt for a facial after your morning yoga session then head out for some sight-seeing. Some retreats combine horseback riding with gourmet meals.
Serious Yoga Retreat or Vacation?
An ashram is the classic idea of a yoga retreat. In Hinduism, this is typically a retreat located in a remote area with few creature comforts, which is imperative when it comes to getting in touch with the practice of mindfulness. Ashram's offers a very structured program, with meditation, chanting and two hours of Hatha yoga, generally done before breakfast. In the afternoon you are kept busy with "Karma Yoga," otherwise known as ashram chores.